Newark High School


Class Of 1963
In Memory
Glenn Merle Cunningham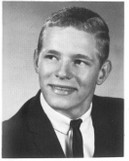 April 2, 1945 - February 2, 2006
NEWARK -- The community has lost a civic leader whose achievements include service with the police department, school system and local veterans organizations.
Retired Newark Police Sgt. Glenn Cunningham passed away recently. He will undoubtedly be remembered by countless friends, co-workers and fellow veterans.
"I hope people remember Glenn Cunningham for his endless energy on behalf of the veterans community," said Mark Rehl, president of the Vietnam Veterans of America, Chapter 55, of which Cunningham was an original member. "What he did for the veterans in Licking County can never be repaid. I consider him to be one of my mentors."
Cunningham graduated from Newark High School in 1963, and the Newark Police Academy in 1967. In 1978, he graduated from Central Ohio Technical College with an associate's degree in law enforcement.
Sgt. Dennis Frey had known Cunningham for more than 20 years.
"Originally, he was my supervisor when I started here -- but I knew him well before that," Frey said. "He was involved in all kinds of activities from veteran to Masons ... It just ran the gamut."
Cunningham retired from the police department in 1999, after 26 years on the force and five years in reserves.
During his time with the Air Force, Cunningham served in Thailand from 1963 to 1966, representing his squadron during President Lyndon B. Johnson's 1966 Asian Tour.
The Vietnam veteran later served as commander of Veterans of Foreign Wars Moundbuilder's Post 1060. He also founded the Police Athletic League of Newark/Licking County in 1991, and served as Newark High School's director of security from 1994 to 2001.
He belonged to numerous community organizations, some of which included AMVETS Post 345, American Legion Post 85, Licking County Veterans' Service Commission, Licking County Fraternal Order of Police 127 and Newark Jaycees.
"His motto was always, 'Can we do more?'" said Mary Jones, Licking County Veterans' Service officer. "But it was for the good of the veterans, and I loved that."
Cunningham was honored in 2002 with the national Legion of Honor Award, given by the Chapel of the Four Chaplains in Philadelphia.
"I knew he was sick, but I still haven't reconciled to the fact that he's gone," Rehl, of Newark, said. "He was so active in the veteran's community that everywhere you went, there was Glenn Cunningham."
Glenn was survived by his wife, Donna; two sons, Jason and Jared Cunningham and preceded in death by his parents; Chester M. Cunningham and Elsie M. (Tackett) Holtschulte.